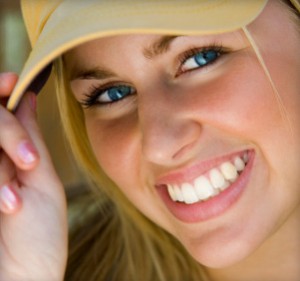 Patients who have stained and dull teeth are missing out on their smile's full potential. Yellow teeth can age you and affect your confidence. You should feel proud when you show off your smile around your friends, family, and coworkers.
At Legendary Smiles, you can revitalize your smile with Opalescence tooth whitening. You can take your whitening kit home to conveniently create a brand new smile.
Reasons for Discoloration
Your teeth might be stained or yellow because:
Colorful food and drink like chocolate and wine break through the teeth and leave them stained
Nicotine from tobacco products leaves a brown coloring on the enamel
Some medications such as tetracycline can dull your teeth over time
The natural aging process results in duller, less appealing teeth
Fortunately, the cause behind your yellowing teeth doesn't matter. Opalescence Tooth Whitening deeply cleans the teeth, so no matter what the cause is, you'll see a bright and beautiful smile almost instantly.
Opalescence Formula
The Opalescence Whitening formula is powerful yet gentle. The gel contains potassium nitrate and fluoride (PF). This ingredient keeps your enamel healthy while your teeth lighten. The PF formula will act quickly to give you a smile that is several shades whiter.
Comfortable Whitening at Home
Many patients enjoy whitening their teeth on their own time and in their own home. We provide take-home whitening kits so that you can eliminate smile staining from the comfort of your couch!
Your take home whitening kit will contain custom fit whitening trays and professional strength whitening solution. You will notice a difference in your smile after the very first use. After 10-14 days, your smile will reach optimal brightness!
If you would prefer to whiten your teeth in the office, come talk with Dr. Bulzomi. He provides in-office teeth whitening by request.
Are you longing for a stunningly white smile? Call us at Legendary Smiles today.